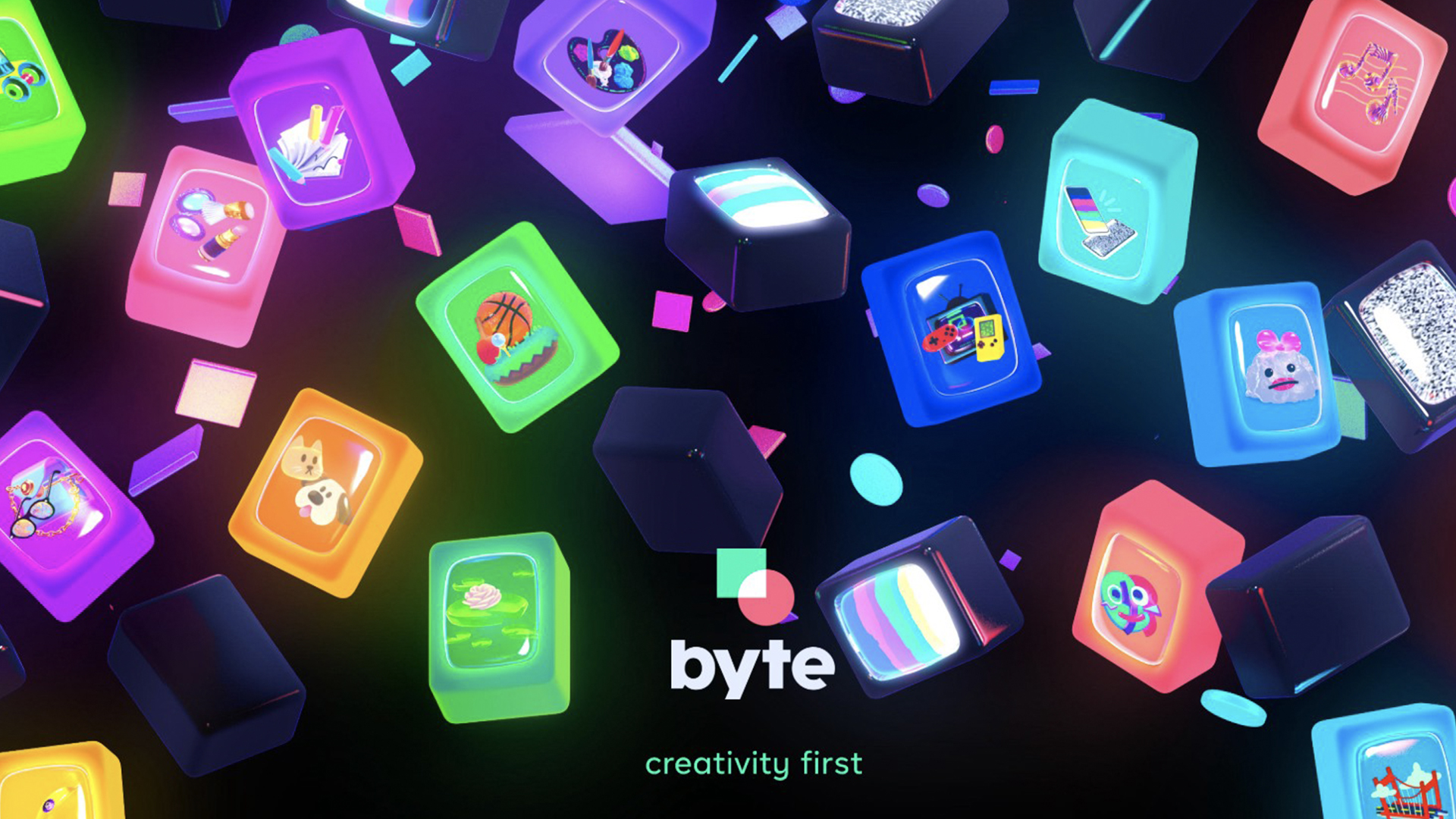 There, I said it: as it stands, Byte is unlikely to beat TikTok at its own game
MJ Widomska, 20 July 2020

As soon as TikTok gets in trouble (which happens often), the search for the Next Big Thing™️ intensifies. Recently, Vine's successor Byte is getting some press off TikTok's ban in India and potential ban in the US. Currently, it's the only notable video-only social media network that isn't TikTok. But, is it actually a viable competitor?
To get you up to speed, here's a recent history lesson on TikTok and Byte.
The confusing world of Vine, Byte, Musical.ly and TikTok

It all started with Vine.
Twitter's video-only app was released in 2013, allowing users to upload six-second long square videos that would loop infinitely. It quickly became massively successful and shaped the online world for years to come, kickstarting careers of content powerhouses like Jake and Logan Paul or Lele Pons. Many popular YouTubers started on Vine too: Cody Ko, Danny Gonzalez, Drew Gooden or Kurtis Conner. Most importantly, it became a pop culture phenomenon, with Vine compilations amassing millions of views on YouTube long after the app shut down in 2016.
The mobile-first video-shaped hole left by Vine was eventually filled by TikTok after its rebrand from Musical.ly. Starting out as a lip-syncing app for teens released in 2014, it was acquired by ByteDance (confusingly not affiliated with Byte) and transformed into the TikTok we know today. It allows users to create videos up to 60 seconds long, choosing from a library of Apple Music songs or sounds uploaded by users. It has pretty powerful editing capabilities, with constant updates, high-tech filters and user-friendly UI. You can search the app by hashtags or sounds, which often become trends in their own right. TikTok has had a fair share of controversies from the get-go, but it has seen
spectacular growth this year
.
Byte was created by Dom Hofmann, the founder of Vine. Like Vine, it let users upload 6-second long looping videos. The time limit was extended — at the time of writing, the longest video I've managed to upload was 18 seconds. Similarly to its predecessor, it has little to no in-app editing. It certainly feels like Vine upgraded to 2020: slick, easy to use and simple.
And now, its main competitor is facing some serious issues: already banned in India, TikTok is now facing a potential ban in the US. American users, anxious about losing their followers are already downloading to Byte, which is seeing a surge in popularity. It's now being downloaded by hundreds of thousands new users a day. So, is this the end of TikTok?
Do we need another Vine?

Let's look at what made TikTok popular.
First of all, TikTok is full of features. Sounds, music, filters, AR effects, editing, challenges, hashtags, dances — each one of these has the potential to go viral on the app. Byte is all about original content, while TikTok encourages users to show their own take on new trends. While Byte's USP is its simplicity, TikTok proudly adds new effects to its library of hundreds of filters.
Your TikTok experience will probably be very different from others. The algorithm is so specific that it famously created so-dubbed "sides" of TikTok: straight TikTok, alt TikTok, right and left-wing TikTok and many more. Alt TikTok
famously messed with Trump's Tulsa rally recently
(which may or may not have something to do with the ban talks). No matter what side you end up on, the algorithm will make sure to only show you what it believes is relevant to you. Unlike the much-hated Instagram algorithm, TikTok's code is pretty spot on. After just a couple of hours of scrolling, you'll notice your feed moulding to your tastes.
These 6-second-long hilarious videos that made Vine great find their place on TikTok too, but the vast majority of content is more ambitious. Slick edits, cosplayers lipsyncing movie lines, beautifully filmed makeup tutorials and elaborate comedy sketches are all made possible thanks to the 60 second time limit and various in-app features. Byte launched earlier this year and cannot compete with TikTok in terms of the sheer quantity of options available to its users. Gen Zs grew up in a Vine world, but it's a TikTok world now: we mourned the loss of the app in 2016, but now we all moved on.
Byte are aware of why the wave of its new users joined and what they're looking for. Byte are currently implementing new features familiar to TikTok users, such as sounds, more specific algorithm and text overlays. TikTok's newest troubles may have caught them by surprise, but they're playing catch up.
However, it's more than likely that the Zoomers who downloaded Byte in fear of the ban will ditch it if TikTok manages to convince everyone that it is, in fact, not Chinese spyware. As it stands now, Byte simultaneously feels too much like TikTok to offer an engaging experience and too little like TikTok in the creative freedom it gives its users. In a perfect world, it would have released three years earlier and scooped up Vine's audience, but TikTok did that already and got them hooked on new and exciting features.
It's difficult to predict what would happen if TikTok gets banned in the US. There's a chance Byte will be able to fill the hole left behind by its main competitor and acquire a big chunk of its massive userbase. But it's also possible that many users will grow discouraged by a familiar-yet-unfamiliar app that lacks the features they're so used to. Some will turn to VPNs. Some may ditch the format altogether and go back to Twitter, Snapchat or Instagram, with the latter already working on some TikTok-like features.
YRS TRULY is an award-winning creative studio based in London. We help brands in tech and gaming reach new audiences ︎ You can find out more about work here︎︎︎, check in with us on Twitter︎︎︎ or drop us an email at hello@yrstruly.uk.